American Momentum Bank supports at-risk youth and foster children through Frontyard Festival sponsorship
02/09/2021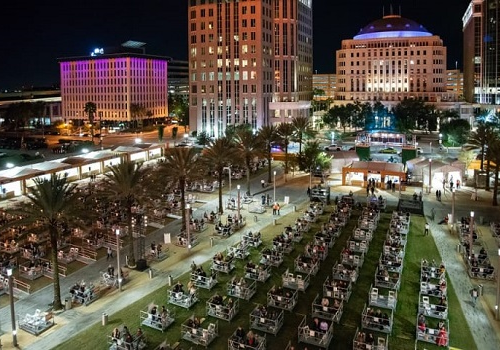 ORLANDO, Florida (Feb. 9, 2021) — American Momentum Bank is supporting at-risk youth, foster children and their families in Central Florida through a $75,000 Series Sponsorship for the Dr. Phillips Center for the Performing Arts' Frontyard Festival™.
The festival, which began in December in response to the COVID-19 pandemic, is a series of outdoor performances and events expected to run at least six months that provides the community a safe way to come together around live entertainment. Frontyard Festival™ events include concerts, films, community arts, fitness classes and more.
American Momentum's sponsorship helps support the Dr. Phillips Center's ability to reach and host at-risk youth, children in foster care and their families, and other individuals who might not otherwise have the opportunity to experience the festival.
"The concert and entertainment industry was among the hardest hit by the pandemic," said American Momentum Bank Florida President Mike Collins, who is based in Orlando. "We are honored to partner with the Dr. Phillips Center, who created this unique venue that returns arts and music to the community safely and thoughtfully. Our company is particularly thankful that we can play a role in bringing this special opportunity to children and their families who have been forced to spend so much time at home due to COVID restrictions."
To date, the Dr. Phillips Center has provided more than 500 complimentary tickets to Frontyard Festival™ performances and events with support from American Momentum's sponsorship. The center expects to host between 1,500 and 2,000 at-risk youth, foster families, veterans and others within the event series's six months.
"The support we received from American Momentum Bank and all of our partners and sponsors made the Frontyard Festival™ possible," said Kathy Ramsberger, president and CEO of the Dr. Phillips Center for the Performing Arts. "They aligned with our vision to re-engage the live entertainment industry during this time, to safely bring the community back together, and to get people back to work."
American Momentum is a long-time supporter of the Dr. Phillips Center. In 2019, the bank sponsored 100 at-risk youth to experience a special matinee showing of the Broadway hit musical Hamilton.
View all news