American Momentum Bank supports local families and financial literacy through All Pro Dad sponsorship
03/09/2021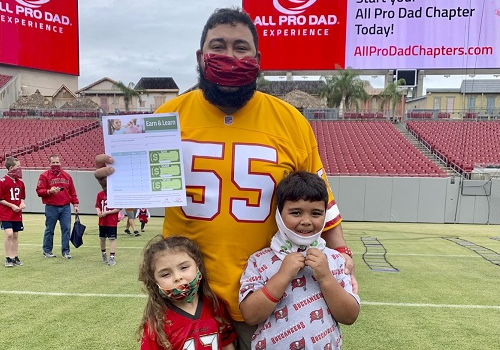 TAMPA, Florida (March 9, 2021) — American Momentum Bank supported local families with its corporate sponsorship of the 2021 All Pro Dad Experience at Raymond James Stadium. The event took place on Saturday, March 6, and welcomed local families onto the field for a fun way to connect and learn about financial literacy and other topics.
The All Pro Dad Experience, an annual event hosted by All Pro Dad, the fatherhood program of Tampa nonprofit Family First, gives local fathers a fun way to connect with their kids on the field of Raymond James Stadium. Families rotate through football-themed stations for meaningful opportunities to connect and play games.
American Momentum Bank's sponsorship included a station at the event where bank representatives worked with dads and their kids to teach financial literacy. Dads had the opportunity to discuss the value of earning money, and how to share, save and spend their money. Parents were also able to discuss age-appropriate jobs to help children earn money to meet their financial goals.
"Teaching your children the value of a dollar at a young age is so important," said Porter Smith, Tampa Bay Market President, American Momentum Bank. "Our team had a great time facilitating these conversations and helping local families improve their bond in a fun and exciting way."
Since 2004, the All Pro Dad Experience has been hosted in Tampa 18 times.
"This event would not be possible without our corporate sponsors, like American Momentum Bank," said Patrick Stevens, Donor and Corporate Relations Manager for Family First. "We've hosted more than 100 events with NFL and NCAA teams from all over the country. The opportunity to serve families in Tampa following the Buccaneers Super Bowl win is really special."
Family First provides parenting, marriage and relationship resources that help people love their family well, and gives them greater hope for the future. The organization was founded by Coach Tony Dungy and current Tampa Bay Bucaneers Quarterback Coach Clyde Christensen, who was in attendance. Smith and his wife, Susan Smith, recently joined the Family First board of directors.
View all news