American Momentum Bank supports the West Texas Food Bank
12/22/2021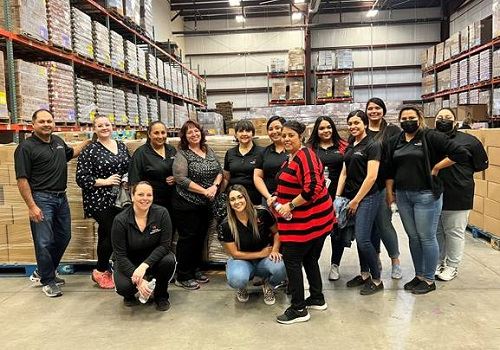 MIDLAND, Texas (Dec. 22, 2021) — Twenty-five American Momentum Bank employees volunteered their time at the Odessa and Midland locations of the West Texas Food Bank this month. They packed 2,200 meals and 3,000 lbs. of beverages that the nonprofit will give to local families in need this holiday season.
"Giving back to the community is so important, particularly during the holidays," said Jarod Thomas, West Texas President of American Momentum Bank. "No one should ever go without food, and we are happy to support West Texas Food Bank in its mission to stamp out hunger in West Texas."
The West Texas Food Bank is the largest nonprofit, non-governmental hunger-relief organization in the Permian Basin. The organization distributes donated and purchased food to children, families and seniors in Odessa, Midland and the entire West Texas area.
Photo Caption: Pictured from left to right and back to front are Victor Salazar, Morgan Reed, Stacy Valdez, Jane Baker, Silvia Mota, Marilyn Lujan, Alondra Carnero, Daniella Vega, Harley Garcia, Yojaira Meza, Chris Rodriguez, Alissa Margo, Jacquelyn Carrasco, and Lisa Ceballos of American Momentum Bank.
View all news