Bank continues support of American Heart Association
03/21/2022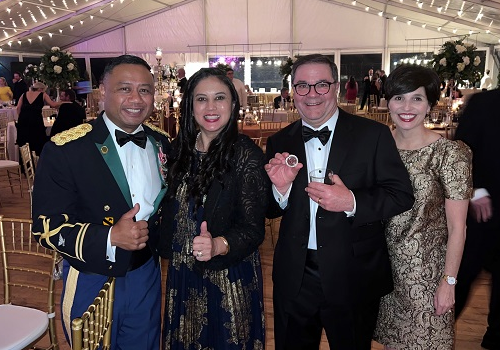 COLLEGE STATION, Texas (March 21, 2022) — Continuing its long history of supporting the American Heart Association (AHA), American Momentum Bank (AMB) recently committed to a $45,000 sponsorship over the next three years, or $15,000 a year. This donation will support three local programs during that time: the Brazos Valley Heart Ball, the Go Red for Women Luncheon and various community outreach programs.
"We are proud to support the American Heart Association in carrying out its mission at both a local and national level," said Frank Varisco, Bryan-College Station Market President of American Momentum Bank. "Since the American Momentum Bank headquarters are located in Bryan-College Station, we feel strongly about making an impact at a local level and contributing to our community."
AHA's mission is to help people live longer, healthier lives, free of cardiovascular disease and stroke. American Momentum's sponsorship will provide support for three local AHA Brazos Valley events from 2022 to 2024:
The Brazos Valley Heart Ball: AHA hosts its signature fundraising event, the Brazos Valley Heart Ball, every year, featuring dinner, dancing and an auction.
The Go Red for Women Luncheon: Across the country, tens of thousands of women gather for Go Red for Women luncheons each year, with local leaders hosting fundraising events.
CPR Training in 2022: In 2022, American Momentum's sponsorship will help fund youth, adult and first aid youth sports CPR training kits. The bank's support will help train more than 250 people in this self-directed CPR program this year, and other special community programs in 2023 and 2024.
The 2022 Brazos Valley Heart Ball took place on Friday, March 4, at the Miramont County Club in Bryan, Texas. The evening included a silent and live auction, dinner, dancing and 'Open Your Heart' appeal to donors.
Photo Caption: Pictured from left to right are Ret. Col. Ross Guieb, Executive Director of the George H.W. Bush Combat Development Complex, Mrs. Kathy Guieb, Frank Varisco, AMB Market President, and Mrs. Marian Rose Varisco.
View all news