American Momentum Bank supports at-risk youth in Central Florida with $75,000 donation to Dr. Phillips Center
05/10/2022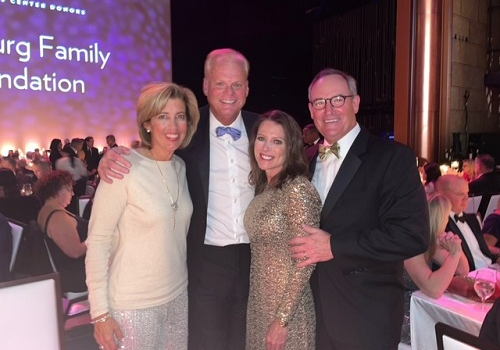 ORLANDO, Fla. (May 10, 2022) — American Momentum Bank made a $75,000 donation to the Dr. Phillips Center for the Performing Arts to support at-risk youth and foster children in Central Florida through the Arts For Every Life ® initiatives at the arts center.
"We're thrilled to support the great work that the Dr. Phillips Center is doing in our community," said Mike Collins, Florida President for American Momentum Bank. "Giving back is at the heart of our bank's mission, and we're happy to support such a worthy organization with this financial contribution."
The donation was initiated during the arts center's Grand Opening Celebration in January 2022, which commemorated the opening of the acoustically advanced Steinmetz Hall as part of the original Dr. Phillips Center design—a dream 20 years in the making.
During the opening celebration, which coincided with the full return of activity in the building following the pandemic, the Dr. Phillips Center continued to raise funds for its community youth initiatives, including underwriting student performances and scholarships in youth education, providing hundreds of students' tickets to various performances and hosting free school day events.
"We are so grateful for the support from American Momentum Bank throughout the years," said Kathy Ramsberger, President and CEO of the Dr. Phillips Center for Performing Arts. "They continue to believe in our vision, helping us advance programs that bring the arts to youth in our community."
American Momentum Bank has a long-standing relationship with the Dr. Phillips Center. In 2019, the bank treated nearly 100 at-risk youth to a matinee showing of the Broadway hit musical Hamilton. The bank also provided a $35 million revolving credit to support the center's $237.5 million second phase of construction in 2017, and a $16 million term financing to help fund construction of phase one.
The American Momentum Bank and Dr. Phillips Center relationship extends beyond youth and community collaborations and on to the stages. Employees of American Momentum Bank took part in the two-week celebration of Steinmetz Hall, which saw the arts center host an opening ceremony, two community open houses and a series of one-of-a-kind performances that brought regional, national and international artists together in one of the greatest concert halls in the world located in the heart of downtown Orlando. The team attended a one-time performance bringing award-winning R&B artist Jennifer Hudson and the London Royal Philharmonic Orchestra together for a magnificent acoustical showcase in Steinmetz Hall.
Photo Caption: Pictured from left to right, Nancy Chapin; Robb Chapin, CEO of Bridge Senior Housing Fund; Kelly Collins and Mike Collins, Florida President of American Momentum Bank.
View all news