Beau Monde West Spa breaks ground on new facility in Wichita
08/24/2023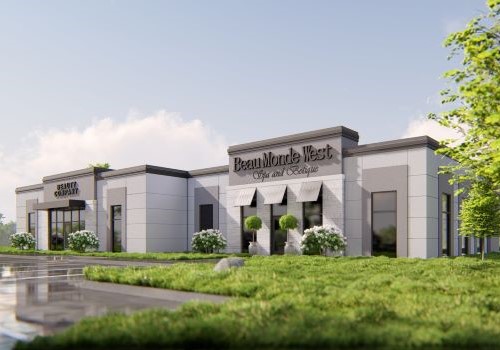 WICHITA, Kan. (August 24, 2023)— Beau Monde West Spa, an award-winning luxury day spa in Wichita, has broken ground on a lakefront 9,362-square-foot building at 3815 N. Weston Street that will serve as the new location for the spa. The new location will be more than twice the size of its current location two miles north, allowing for the spa to add several new health and wellness services.
Beau Monde West Spa secured more than $2 million in construction loans from American Momentum Bank's Small Business Administration (SBA) Division to begin construction on the property. The project was designed by Shelden Architecture. Accel Construction will oversee the building project.
"The thoughtful design of this space will enhance our commitment to providing a serene, harmonious environment for clients to relax and rejuvenate," said Betty Jones, esthetician and owner of Beau Monde West Spa. "The expansion will also allow us to introduce new, exciting wellness opportunities."
Plans for the new location include a Himalayan Salt Room, Far Infrared Sauna, and a variety of new health and wellness offerings. Beau Monde West Spa will also add several new jobs to the community when the new location opens.
"We are pleased to provide Beau Monde West Spa with the financing to expand its current operation and provide additional services to the community," said Gary L. Siddens, Jr., Vice President, SBA Business Development Officer III for American Momentum Bank. "The SBA program allowed us to secure a projection-based loan that uses Beau Monde's projected earnings to secure ample financing. This type of loan is unique to the SBA program and is an asset to businesses in expansion mode."
Texas-chartered American Momentum Bank is a designated "SBA Preferred Lender," according to the U.S. Small Business Administration. The community bank announced the expansion of its SBA Lending Division in May 2022 and continues to hire qualified SBA Business Development Officers across the country.
"We're incredibly pleased with our experience with American Momentum Bank," said Jones. "Gary is attentive, responsive and courteous, and has answered all of our questions along the way in a professional manner."
Currently, Beau Monde West Spa is located at 2441 N. Maize Road. The new location is less than two miles north and sits on a serene lake. Beau Monde West Spa will occupy 6,755 square feet of the property and lease an additional 2,607 square feet to a tenant.
View all news